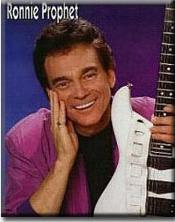 PROPHET PATTER
Press, News & Info

VET'S HONOR RONNIE & GLORY-ANNE
IN BRANSON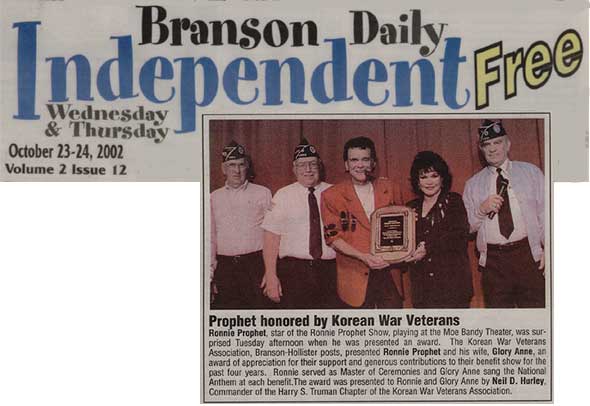 05/09/01
RONNIE PERFORMS FOR MISSOURI GOVERNOR


Ronnie & Glory-Anne were invited by Missouri Governor Bob Holden to perform at a special country barbecue at the Governors Mansion in Jefferson City, Missouri on May 9, 2001. The Governor, state officials, delegates, local representatives, dignitaries and guests enjoyed a delicious meal and tapped their toes to the wonderful Ronnie Prophet show!

Governor Holden presented Ronnie, Glory-Anne and their group with special appreciation gifts after the show.

The next morning, Ronnie & Glory-Anne performed to a sell-out crowd at their Pickin' Parlor Theater in Branson! On your next trip to Branson, be sure to catch this popular show!

03/08/01 - COUNTRY WEEKLY MAGAZINE
Be sure to pick up the March 20, 2001 issue of Country Weekly Magazine and turn to page 18!
The Ronnie Prophet Show was mentioned in "Spotlight On...Branson's 76 Strip" article!


02/17/01 - NEWS FROM RONNIE & GLORY-ANNE ON THE ROAD
Ronnie & Glory-Anne are winding up a four week tour in CA, Fl, AZ, & TX performing at the Snowbird Extravaganza Shows promoting their new show in Branson as well as Branson as a vacation destination...... They will perform at Kinsman Telemiracle 25 in Saskatchewan...helping to raise money. That's if for now...gang...keep it country.......


Story from MUSIC COUNTRY NEWS, Branson, MO - Sept., 2000

RONNIE PROPHET: CANADA'S GREATEST EXPORT
by Brian H. Seitz

In addition to awesome talent, Ronnie Prophet's success in Branson can be directly attributed to his "hands on" style of entertainment. Four-time Canadian Male Vocalist of the Year and a decade spanning recording artist (including 2 Gold albums), Ronnie Prophet and his talented cast perform each day in the intimate Pickin' Parlor Theater at the Shepherd of the Hills Homestead.(Click here for the show schedule and information for 2001.)

Ronnie and his lovely wife and song partner Glory-Anne, moved to the Ozarks in 1997 to work at the BoxCar Willie Theater in their own show. After living in Nashville, Tennessee and touring around the wrold for over thirty years, the Prophet's found Branson to be the perfect place to showcase their talents.

Never totally severing his northern country roots (editors note: Why should a national treasure be restricted by international borders?), Ronnie, in 1999, was inducted into the Canadian Country Music Hall of Fame during the Canadian Country Music Awards, in honor of his lifetime achievement. Also in '99, Ronnie and Glory-Anne were awarded the Branson Ambassador Award for their work in promoting Branson as a destination.

The Ronnie Prophet Show at the Pickin' Parlor Theater features loads of traditional country music, hiliarious comedy, instrumentals and more. Two newly installed television monitors give the audience a pre-show preview of Ronnie's induction into the Hall of Fame, giving the audience an indepth look at his storied career.

Ronnie's solo numbers hearken back to a time when country was King (and clean) with hit's like "Tiger By The Tail", "Open Up Your Heart", "Blueberry Hill" (country style), a special dedication to BoxCar Willie and his train songs, the hilarious "I'm My Own Grandpa", the "Auctioneer", a Don Williams medley, and tons of other hits. With at least 70% of the show being new this season, the Ronnie Prophet Show puts the audience first, allowing them to become a part of the show, while maintaining a professionally entertaining atmosphere. Ronnie's prowess on "all things strings" and timely sense of humor (including impressions) are the "icing on the cake" during this morning funfest.

Also joining Ronnie on stage are guitarist Ray Wix and comedienne Bessie Bug (a.k.a. Dottie Booth).

Glory-Anne joins her hubby on "Cincinnati, Ohio", "It Must Be Love", and a hilarious song about a "Fur Coat" (you've got to hear this song!) amongst other numbers.

Ronnie and Ray Wix team up on a Chet Atkins style instrumental "Wreak of the John B". Ray's 10 years at the Grand Ole Opry come into play as he solo's on "Don't Worry About Me", a country ballad that endears him to the audience.

Bessie Bug, Pond Scum, Arkansas' answer to Hillary Clinton (Bessie is performing away from home, Hillary is reverse carpetbagging in New York), is Branson's best and to my knowledge, ONLY, traditional Ozarks style female comedian.

Bessie keeps the audience in stitches with her reminiscing about family members, Putnam, Dilbert and others. A cleaning lady with an attitude!

The crowds coming to see the Ronnie Prophet Show in the Pickin' Parlor Theater have been so good that plans are in the works to expand the theater to become a 400-500 seater next season.

Chances are, you came to Branson to be entertained. Look no further, than Canada's greatest export, Ronnie Prophet!

See you there!